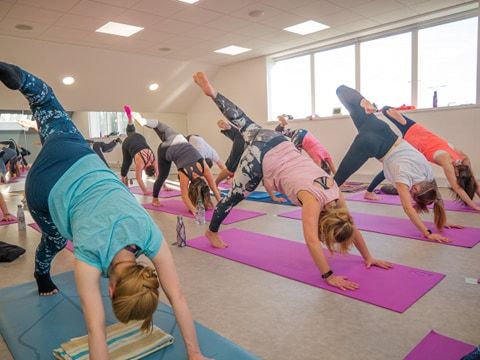 Covid Update at Ironstone…
With restrictions lifting across England on the 19th July please read below to find out all the planned changes at the Ironstone Wellbeing Centre. We are planning on doing a phased return so that we can assess the situation and gauge how people are feeling with the changes.
Class sizes will be increasing initially to 12 people plus the instructor. This will mean that you will all still have your own marked out 2×2 square. We will over the coming weeks increase class capacity as and when we as a business feel ready and safe to do so.
Masks, although no longer compulsory, are advised to be worn, especially whilst covid infection rates are on the rise and until the majority of the population have been double vaccinated. All Ironstone staff will continue to wear masks for now.
In terms of equipment, we ask that you still bring your own yoga mat. We will now be able to provide blocks for use in class, but would recommend that you bring your own where possible. All equipment provided by Ironstone must be wiped down at the end of the class using the cleaning equipment provided in the storage cupboards.
With classes sizes increasing, we would like to remind you to either arrive at the centre class ready or to use the lockers provided to store your bags and coats. You do not need a pound for these lockers, you just require the key provided. If using one of our lockers, please sanitise the key with the wipes provided after use. Bags and coats are not permitted in the studio.
Our dual in person and online classes will continue. We know that several of you are enjoying our online setup… especially in the early mornings! We will be installing a wall mounted camera in studio 1 this week so that all floor space can be utilised moving forward.
Please take a moment to read through our updated Coronavirus FAQ's. [insert link]
We would like to take this opportunity to thank you once again for your support over this last year and would like to remind you of some workshop events which are coming up shortly. Booking is now open for all of these events.
Yin and Vin-o Evening – Friday 16th July at 6.30pm with Sally
Beginners Hatha Yoga Workshop – Tuesday 27th July at 9.30am with Ella
Ironstone Nourish and Nurture Retreat Day – 1st August 10am with Olivia Hickman
Introducing Tai Chi and Qigong Workshop – 7th August 10.30am with Dominic
Further details can be found https://ironstone.club/workshops/
Finally, we have made it through to the finals of the Muddy Stilettos Northants Awards as the Best Yoga and Pilates Studio in Northamptonshire. The votes have gone back to zero, so we need you to vote for us all over again! It would be amazing if we could win this award.
To vote for us please follow the link and get voting https://northants.muddystilettos.co.uk/vote/ Voting closes at 5pm on Friday 23rd July.
If you have any questions, please email niamh.bailey@ironstone.club
Many thanks,
The Ironstone Team