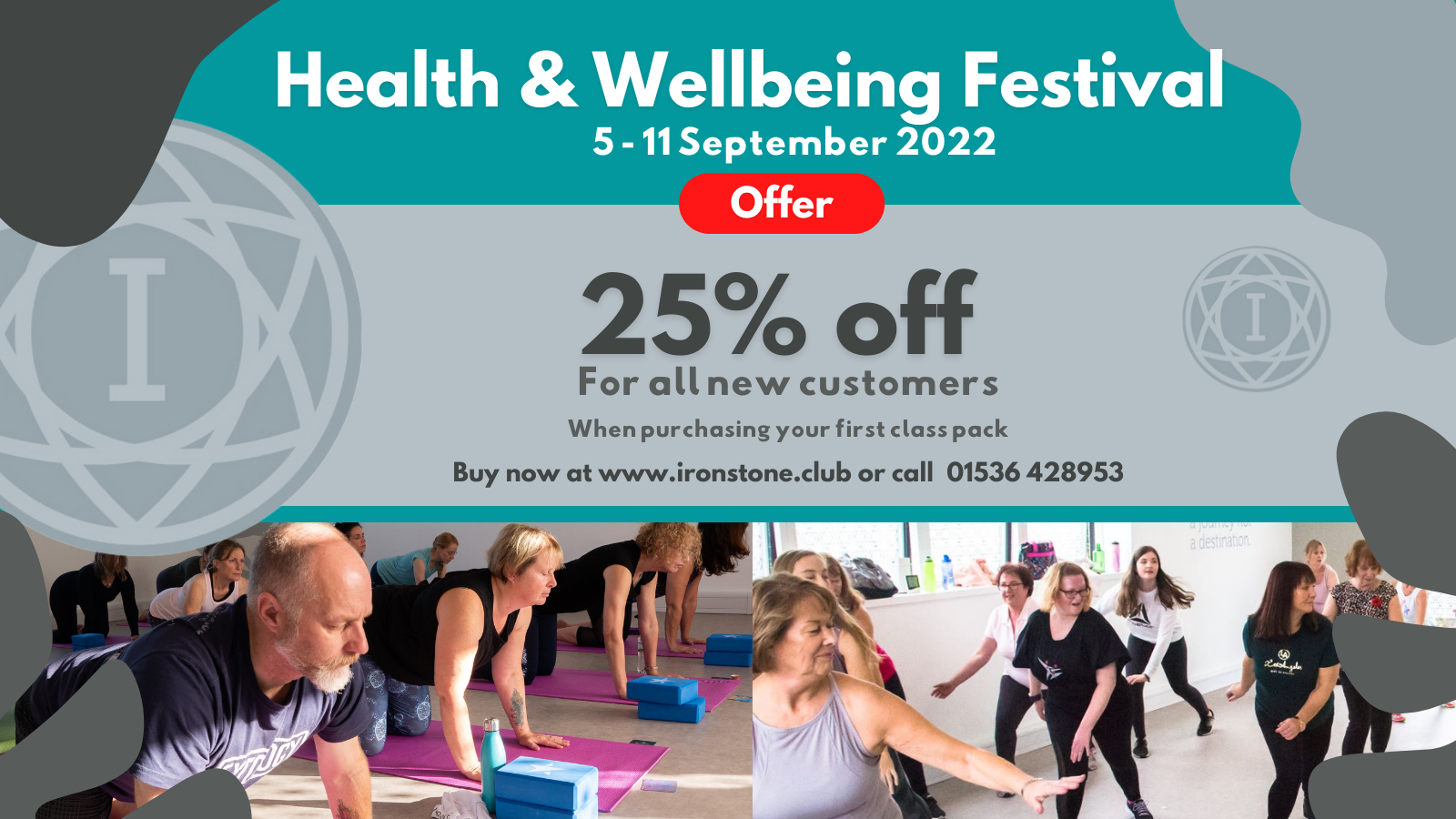 Health and Wellbeing Festival: 5-11 September 2022
Get inspired to take time out to take care of you!
Ironstone Wellbeing Centre is the perfect place to nourish mind, body and soul; and we are offering you a fun week of yoga, pilates, dance and fitness classes in support of North Northampshires Health and Wellbeing Festival.
Healthy mental health and wellbeing is about doing everything we can to effectively manage our thoughts, feelings and actions in a way that helps us function in our day-to-day lives. This is the second year running for the health and wellbeing festival which brings together local organisations and services to help people get active, free their mind, take time to relax and discover what support is available in the area.
---
Join us at the Ironstone Wellbeing Centre, in Kettering, where we are offering 25% off any class packs for new customers, this week and throughout 2022.

Take a look at our TIMETABLE to find out what's on and BOOK ONLINE or call 01536 49388.

Here are some of Ironstone's health and wellbeing classes and events to try out:
WOMEN'S YOGA AND WELLBEING
7 September, Wednesday | 12:15pm to 1:15pm
This is a taster session and the festival price is £5. Join yoga teacher Olivia for a unique and magical blend created to support women on and off the mat. Enjoy nourishing yoga and wellbeing practices to enhance your everyday life. No yoga experience is necessary. No booking is necessary. Contact info@ironstone.club for further details or visit us at Ironstone Wellbeing Centre, Ironstone Place, Kettering, NN14 1FN.
STRETCH TO THE FUTURE
8 September, Thursday | 6pm
This free specialised yoga session for adult cancer patients in Northamptonshire is in support of Kettering Macmillan Cancer. To book Stretch to the Future classes call 01536 493888 or visit us at Ironstone Wellbeing Centre, Ironstone Place, Kettering, NN14 1FN.

THE GREEN PATCH: VISIT THE IRONSTONE STAND
10 September, Saturday | 11am to 2pm
Come along and chat to the Ironstone Wellbeing team about all things health, fitness and wellbeing. See you at the Green Patch! The address is: The Green Patch, Valley Walk, Kettering NN16 OLU.
---
YOUR IRONSTONE WELLBEING COMMUNITY
We look forward to welcoming you to our friendly and supportive health and wellbeing community based in Kettering, Northamptonshire. We're the perfect place for you to relax and unwind or workout and work up a sweat; or just enjoy coffee and cake in our cafe! You can choose from a fantastic range of classes, workshops, therapies and treatments at the centre; with everything from hot yoga, hot pilates, mindfulness meditation, FitSteps, Tai Chi, seated yoga and children's yoga.
For more information about Ironstone Wellbeing Centre's class pack offers, workshops and membership options click on the links below or call 01536 493888.
> Class packs and membership options
> Timetable and bookings
> Meet the instructors
> Location map
> Sign up to our newsletter to find out about upcoming social and wellbeing events.